We're probably all aware by now that October is Breast Cancer Awareness Month. I told my husband the other day "
Susan G. Komen Foundation
has it going on! It's everywhere!!" Their marketing is phenomenal and has brought so much awareness to the fight against breast cancer.
Everything goes pink this time of year, I love it! From downtown fountains, the cap on my Yoplait yogurt (
www.yourlidmatters.com
), even NFL players sporting pink shoes, gloves, heck! even the coin for the toss had a Breast Cancer Awareness side to it.
Breast Cancer has affected my life, as well as my husband's. In remembrance of his mother, and in celebration of my grandmother's 10th year of being cancer free, I wanted to write this blog and let you know about some of my favorite items to purchase that support the cause.
My personal favorite which I carry year-round is my Bank of America debit card...
From 2009-2011, Bank of America is guaranteeing a minimum of $1,950,000 and a maximum of $2,700,000 to Susan G. Komen for the Cure® in conjunction with this program. For each new Susan G. Komen for the Cure branded credit card account opened and activated, Komen receives a minimum of $3 and up to 0.20% of all net retail purchases made with the card. For example, 20 cents for every $100. Komen also receives $1 for each annual renewal of the card.
One of my favorite tennis shoe brands New Balance has several different Pink Ribbon styles this season...
Pink KitchenAid mixer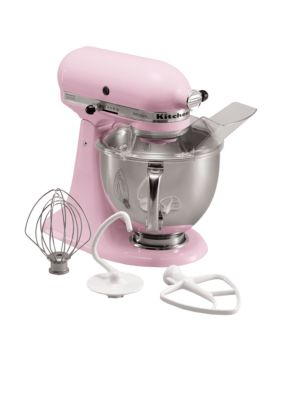 I own an Under Armour hoodie from last year's collection that has a pink ribbon on the sleeve like this one. It is so comfortable and warm in the winter. This one sells for $54.99 on the Under Armour website.

UnderArmour.com

These are just some of my favorite items. There are so many out there that contribute so please get out there and shop for a cause!
While October is awareness month, the fight against breast cancer never stops. Please visit
http://ww5.komen.org/
and make a donation or sign up for a 5k in your city! God Bless!!