If you checked in last Monday, you noticed I have started my own
Mary Kay business
.
I also mentioned this wonderful, age-fighting system known as the Miracle Set, which received the Good Housekeeping Seal of Approval and is one of the most successful products in MK history.

3-In-1 Cleanser, 4.5 oz.
Age-Fighting Moisturizer, 3 fl. oz.
Day Solution Sunscreen Broad Spectrum SPF 35*, 1 fl. oz.
Night Solution, 1 fl. oz.
This premium collection, designed to work together, is the main reason I became interested in Mary Kay. I was looking for a way to fight wrinkles and aging after viewing some photos of myself. This one in particular.

@ Chipper's last regular season home game in Atlanta (Sept 30)
Look at those crow's feet!! I wasn't happy with the amount of lines around my eyes. What happened?? Some of these expression lines have been there for a while but I noticed more than usual.
Maybe it's because I've been content with my budget-friendly face wash for the past couple of years, and lack of moisturizing at night? Maybe it's that I'm rapidly approaching 30? Maybe it's my makeup? These are all thoughts crossing my mind.
I do realize lines and wrinkles are bound to happen. Obviously a little sooner than I would have liked. So I realized, it was time to start using a technology-proven product that works! I just want to do my part to prevent whatever I can. And it's better to start early rather than later!
So I'm giving the Miracle Set a 12-week challenge which is the same amount of time allowed in the MK clinical study. You're probably asking why are you testing the product you're selling, what if it doesn't work?
Here's the thing I love most about Mary Kay, there is always something valuable to learn about every product. (That's probably the nerd in me.) Mary Kay puts
a lot
of technology and research into every product to be worth your money.
For me, I relate it to when I'm at the mall looking for makeup and I ask which one would be the better choice. I rarely have had someone tell me all of the benefits and what goes into the makeup that would help me achieve the look I'm going for. But a Mary Kay represetative could tell you all of the advantages of each and every product. I have never went to a Mary Kay event and not learned something new.
With that said, I'll give you these results from their clinical study. And together, let's see if the Miracle Set lives up to its name.
As seen by a dermatologist on panelists in a
12-week clinical study:
 83% had a reduction in fine lines and wrinkles
 Up to 25% improvement in skin elasticity
 100% had softer, more supple skin
 46% improvement in more even skin tone

I've been using it for 2 full weeks now, and while I don't see a dramatic difference, I have been able to feel the difference. My skin definitely feels better. I will take a picture next week, after week 3, for you to compare for yourself. And another during Weeks 6, 9 and of course, 12.
I'm also going to incorporate the Time Wise Firming Eye Cream (a must have for my dark circles) soon which is proven to help in the following areas:
96% saw an improvement in the overall appearance of the skin around the eyes*
100% saw a visible reduction in roughness/dryness around the eyes*
up to 25% firmer skin around the eyes*
up to 40% reduction of dark circles under the eyes*
up to 75% improved silkiness of skin around the eyes*
Hypoallergenic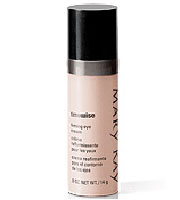 $40.00
I'm excited to see the difference over time! How 'bout you? Anyone else want to give it a try? MK offers a trial-set for $44.00. As a bonus, I will also send you a free sample of the eye firming cream with your purchase! Just mention "Miracle Set Challenge." Who's in??